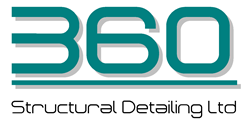 Welcome
360 Structural Detailing Ltd was formed by long time work colleagues and business partners Richard Walker, Chris Haw and Phillip Welsh in 2011. We are based in the town of Harrogate in North Yorkshire, but our client base spans the country. We provide sub-contract structural steelwork detailing services to steelwork fabricators across the country. Our client base varies from small local fabricators to multinational engineering companies. We exclusively use the latest version of the industry standard Tekla Structures software. This means that we can fully integrate with your existing detailing system if you are already a Tekla user. Alternatively we can create a system to suit your needs if you are not.
We are vastly experienced in the use of Tekla Structures, which has allowed us to develop an in-depth knowledge of the software so that we can use it to its full potential. This helps us to consistently deliver contracts on time and on budget whilst maintaining the highest standards. All the drawings we produce (assembly, single parts, GA's) are fully edited to the highest standards before being issued to the client to ensure a smooth run through the production process. Realising that traceability is highly important in this day and age, we maintain comprehensive trails of information.
All of our skilled draughtsmen have a huge amount of experience as structural steel detailers and have worked on some of the most iconic and prestigious buildings in the country. We have experience in all types of structure including but not limited to retail, portal frames, multi storey office buildings, refurbishments, art galleries, petrochemical, architectural metalwork, feature stairs, forecourt canopies, SFS; you name it we've worked on it. You can rest assured that your contract however big or small is in safe hands with 360 Structural Detailing Ltd.